A WiP Report
I've reached midpoint of my current Work in Progress. (I think. I hope.)  So I'm taking some time to reflect on the book I've worked on – or at least thought about –  since the 1980's when my daughter and I participated in activities of the Society for Creative Anachronism, "an international living history group with the aim of studying and recreating mainly Medieval European cultures and their histories before the 17th century" (Wikipedia).
In the years Jess and I were active in the SCA, we made many friends; enjoyed the group fantasy of wearing weird clothes, sometimes eating strange food at feasts, speaking an offbeat version of the English language; attending events like  Kris Kinder in December; and learning arcane skills such as transforming fleece into yarn with a drop spindle.
But when I decided to become a part time writer in addition to my full time job as professor of writing at a local community college, and my family responsibilities, my leisure time vanished.
Yet over the years, my mind has returned to the concept of setting a mystery novel at least partly if not completely inside the world of a Renaissance Festival and/or inside a group somewhat similar to the SCA. Some times I called the book Death in Shining Armor and sometimes Die by the Sword. Currently, I'm working on the fourth version, or maybe it's the fifth, again called Death in Shining Armor.
I wrote the first version of Death of Shining Armor with a young female police officer as the protagonist in the early '90's. In 1993 I received a review of the book by a published author who  also  belonged to the SCA, so sarcastic and scathing I felt like I'd been beaten after I read it. As the daughter of a belittling mother, the ex-wife of a belittling husband, and a teacher of writing, I abhor that sort of feedback. I would never permit it in my own classroom. But since those voices in my head echoed that of the reviewer, I abandoned the project.
Later in the 90's I returned to the book with a female private detective from a family of investigators. I actually got an agent to shop this version around to publishers, but she didn't manage to sell it. So I moved on to a completely different project.
Still intrigued by the concept, I returned to the project some time in the '00's, but gave the book  a young female protagonist in peril who wasn't an investigator at all. This version I called Die by the Sword. I abandoned this version and a tweak I tried of it in 2017. I think what bothered me most about that version was that I'd bashed some of the characters in it based on people I have known, something I said I abhorred, that is , critique the crap out of them without allowing them to do the same to me.
But apparently this is the book that won't die. And so about six weeks ago I picked the suspense version up again. And it's going better. I'm doing a better job of letting the supporting characters live their own lives. In contrast, I'm finding points of identification with the protagonist that help me sympathize with her more. Another thing that might help this version is I've set in 1988 instead of present day. (What fun!) Another thing that seems to be helping is the confidence in my own work I've gained from my experiences as an indie author since 2011. I'll keep you posted on how my once and future book is going.
Meanwhile, to keep up with what I'm doing, friend me on Facebook where I'm juliet.kincaid and JulietKincaidauthor2016, follow me on Twitter where I'm JulietKincaid, and occasionally check out my Amazon Central Author's page at www.amazon.com/Juliet-Kincaid/e/B00DB4HWRG for new publications.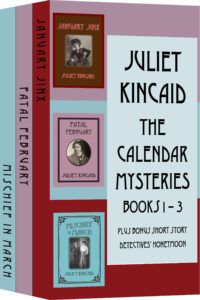 My most recent published work is a boxed set of my first three Calendar Mystery books and a short story featuring a business girl and a dashing detective and set in Kansas City where living could downright deadly a hundred years or so ago. You can get your own copy at www.amazon.com/dp/B07QDKF413
P. S. When you read my work and if you enjoy it, please write a review and post it on Amazon and/or Goodreads. Just a few words, perhaps about what you like most about the book or story, would help. And I'd really appreciate it.