Marie Brennan's Lady Trent Memoirs
Starting with A Natural History of Dragons and ending with the recently published Within the Sanctuary of Wings, Marie Brennan's five-book series, the imagined memoirs of a woman naturalist in an imagined alternate world, offers a lot to the reader.
1) For one thing, from their stunning covers to their lovely interior drawings, they are physically beautiful books. See for yourself.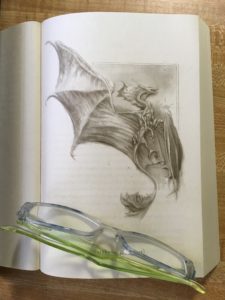 2) For another, they're fun.
Lots of this comes from Lady Trent's starchy voice as she retells the major events of her long life in which she doesn't behave properly.
More fun comes from figuring out what the places and peoples of our world are equivalent to in hers. For instance, she comes from Scirland that much resembles our own Scotland. I'll let you have the fun of figuring out what other place names in her books parallel those in ours.
Though she comes from a society that severely limits the lives of its women, she goes on lots of adventures.
3) The science is sound and interesting. Though the series is classified as fantasy, because of the dragons, I suppose, in several ways the books are more like science fiction. For instance, the dragons are real biological creatures. And over their evolution, they've adapted, like mammals, to many of the ecological niches of their world including the air, the seas, jungles, deserts, and mountains.
4) Throughout the five books, Lady Trent plants clues that lead to solving the great mystery of her world.
But you'll get no spoilers from me.