Life Happens . . . Sigh
Hey, Everybody!
Recently Jess and I had a COVID-19 scare when an acquaintance of mine announced that he'd tested positive for that sneaky virus even though he'd received both shots. And so again I go out and about as Alien Juliet
So there was nothing for it for us to get tested, too. Unlike a test I had last year, the kind where the nurse scrapes the base of your brain when she pokes a long swab up your nose, this one was pretty much a breeze and handled very smoothly. I made a separate appointment at a drugstore with a drive-through close by. When I arrived, I slapped my appointment sheet or voucher against the driver's side window along with my driver's license. The clerk puttered around inside her little compartment inside the store, doing things like fixing a Fed Ex mailing box, processing the receipt and putting together the kit. After a few minutes, she opened the drawer and sent the paper work and kit out to me. I removed the swab, poke-poke-poke-poke-poked it up my left nostril, and then ditto the right. After that I put the swab inside a small vial, broke the end of the swab off, closed the vial and sent it back to the drugstore gal.
Jess did her test on Friday and got the results Saturday night. I got mine on Saturday morning, so it didn't get there until Monday, but I got the results that evening. BOTH OUR TESTS WERE NEGATIVE.
But I'm not fooling around anymore. I'm Alien Juliet at the grocery store. We've gone out to eat two or three times since things loosened up a bit, but now we're doing curbside pickup again, but mostly we eat at home. We take our masks with us when we walk around the neighborhood just in case we come upon little kids because the Delta variant is a sneaky bugger.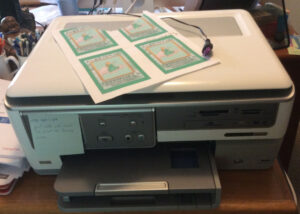 Another sigh to preface another life-happens thingy . . . The other day I was running a test for some postcards I wanted to make when a sheet of paper got jammed in our big HP color/black-and-white printer/scanner/copier. So I got in there and pulled the paper out, it tore and after that when I attempted to print anything the works growl and scream and grind and generally tell me that the printer's a goner.
Here's another sigh. For several weeks, my iPhone said it was too full of photos for me to take anymore with. So I bought a new one and I'm excited about it, but I haven't had the time to set it up because now that I've finished Apart in April.
Why not? I'm taking some time off between projects to go back to school, sort of. Those of you who know me as Dr. J are probably saying, "What's up with that?" Well, my writing, editing and text-formatting skills are first rate and my cover-skills not bad though they need improving. But my promoting skills are severely lacking. So before I get caught up in the next project, I'm attending Zoom meetings and webinars to try to strengthen them. For instance, yesterday I attended a round table discussion about hashtags with a social media professional. Tomorrow, I plan on attending a webinar on creating effective Amazon Ads.
So you know, better busy than bored.
Best, Juliet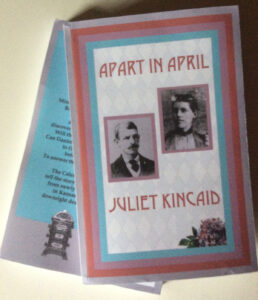 P. S. If you haven't gotten your copy of Apart in April, Book 5 in my Calendar Mystery series, yet, here's the link to the eBook for $4.99: www.amazon.com/dp/B095J4BB94. If you prefer print, it's $14.99 (+ tax and shipping) also exclusively from Amazon. Enjoy! And if you like it, pretty please review it on Amazon and/or Goodreads. Just a few words–about your favorite aspect, for example–would help along with a four or star rating, and I'd appreciate it.