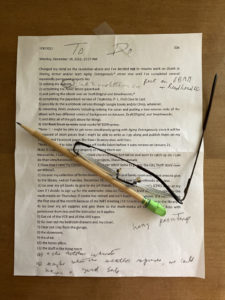 Gee whiz, it's only January 8. And already I have an enormous to-do list for 2023 that includes aspects of my life as an indie author, as a person, and as a home owner. (There's always something going on with a house, so I won't talk about that here.) I'll limit the topics of my life as a writer to three specific projects.
Currently, I'm redoing Novel Basics, An Illustrated Guide to Writing a Novel, in an expanded version that includes advice on self-publishing. I hope to publish the eBook of it wide so people can read it on Nooks and other devices in addition to Kindles or through the Kindle app. I also plan on publishing the new version as a paperback soon and possibly as a workbook this fall for National Novel Writing Month in November.
During the holidays, I set aside Death in Shining Armor, a book I've worked on in several different versions for over thirty years. I would very much like to finish it and publish it in 2023, partly so I can move on to other projects.
And I'm working on my memoir. This fun little project stews on a back burner in my head. I drop a slice of life here or chunk of memories in it from time to time. Still, inside my head, the combined voices of my mother, the father of my child, and the woman I once thought of as my best friend, say, "What? You write your memoirs?" [Insert derisive laugh here.] "You insignificant little nobody! Who could possibly want to read about your life?" Quick, quick, I counter with the voice of a friend, a notable children's author who died in 2022. "You've got the gift, Juliet," she once told me. "Keep on writing." And shortly before her death, she said, Don't you dare quit writing!" Yes, ma'am! Besides that, the very thought of writing my memoirs gives me joy. And that's enough of a reason for me to keep it on my Works-in-Progress list.
Moving to a set of personal items on my to-do list, I'm happy to say that my wonky knee has improved. My fitness tracker says I reach my goal of 7,000 steps a day pretty often. I've resumed my yoga routine of two Salutation to the Sun routines pretty much every morning. Purists might snicker at the way I crawl back to my feet, but at least I'm doing it. I'm happy about this because I thought I'd permanently crippled myself somehow and doomed myself to a sedentary life in front of the tube.
New Year's Resolution (you know I had to have one): my usual one of putting in twenty hours or about three hours a day to some aspect of my writing. Last year, my weekly average was 18.83 or 2.69 hours a day. My actual writing work averaged less than that because my tally includes webinars, meetings, creating ads for my books, and promoting my work through social media. But I'm happy to report that reached my twenty hours writing goal for the first week of 2023. Whoop. Whoop.
FYI: all the mental activity of reading and writing novels, reaching out to others through social media, and physically exercising keeps the brain of this old girl alive. For after all, I'm a Work-in-Progress. How about you?
Best, Juliet
P. S. Right now, I'm running a countdown promotion of the boxed set of January Jinx, Fatal February, and Mischief in March, the first three novels of my historical mystery series, and "Detectives' Honeymoon," a fun short story. You can get it for reduced prices for the American and British versions from now through midnight of January 12 when it returns to the original prices of $8.97 in the U. S. and whatever they are in Britain. Unfortunately, I didn't write down the exact prices for the levels of the countdown when I set it up. But this is all part of the learning process to enhance my Work-in-Progress publishing skills.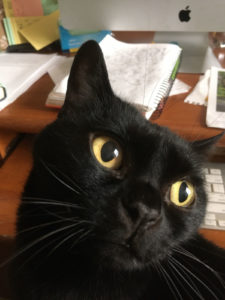 P. S. S. Safa, the adorable, says, "Happy New Year!