DIY Covers for Self-Publishers
1. For the cover of January Jinx, the first in a series of historical mysteries set in Kansas City around 1900, I needed an image to work from. And I'd already decided I wanted something distinctive. This meant clip art was out. And if I was to have half a chance of making money, I couldn't hire anyone to do it.
Luckily, when I started researching my calendar mysteries, I bought a bunch of Dover books. These included Victorian Fashion in America, edited by Kristina Harris. Among the vintage photos was this one:
With some cropping, it would fit inside a frame neatly and so I would avoid the kind of linear design that had caused Cinderella on the covers of some of my fairy tale mysteries to lose her head and legs in thumbnails. Plus, I loved this young woman's cocky pose. Still, I decided not to include the bow tie, as jaunty as it was. And her hat was much too big and fancy for my protagonist's workday hat. So I used this hat as a model instead.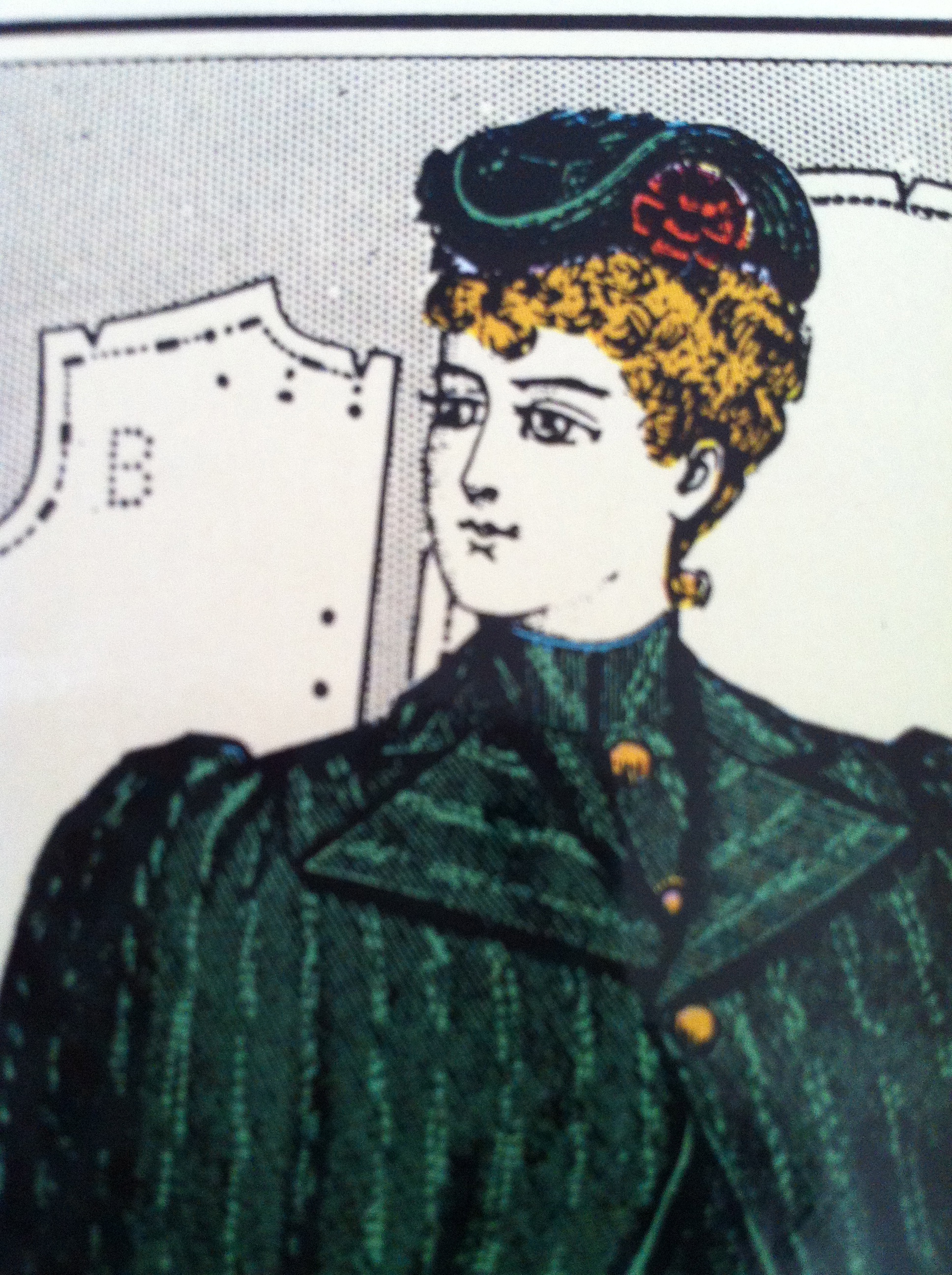 And finally, I wanted to use my own grandmother's face rather than that of the charmer in the first reference photo.
(This is Juliet Perkins Smith for whom I'm named.)
2. On the basis of these decisions, I set to work on the cover of January Jinx.
I did a number of color tests to get the right color for Minty Wilcox's garnet red suit. Here's a sample of a color text.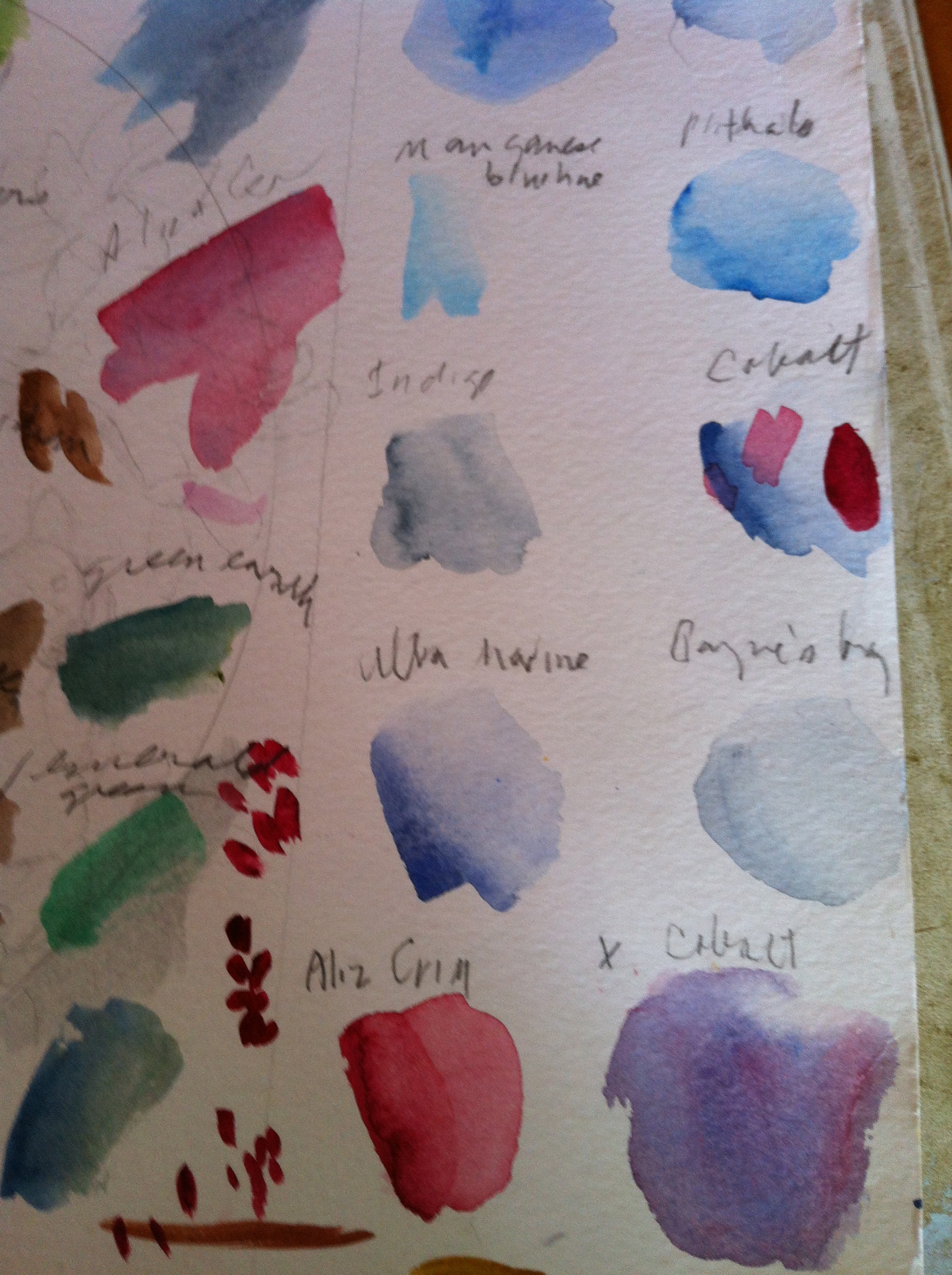 I laid out the cover to fit a 6″ by 9″ format so I wouldn't need to do too much in Photoshop. I played with fonts, printed samples, and decided on Trajan Pro. The photo below shows an early version of my cover layout.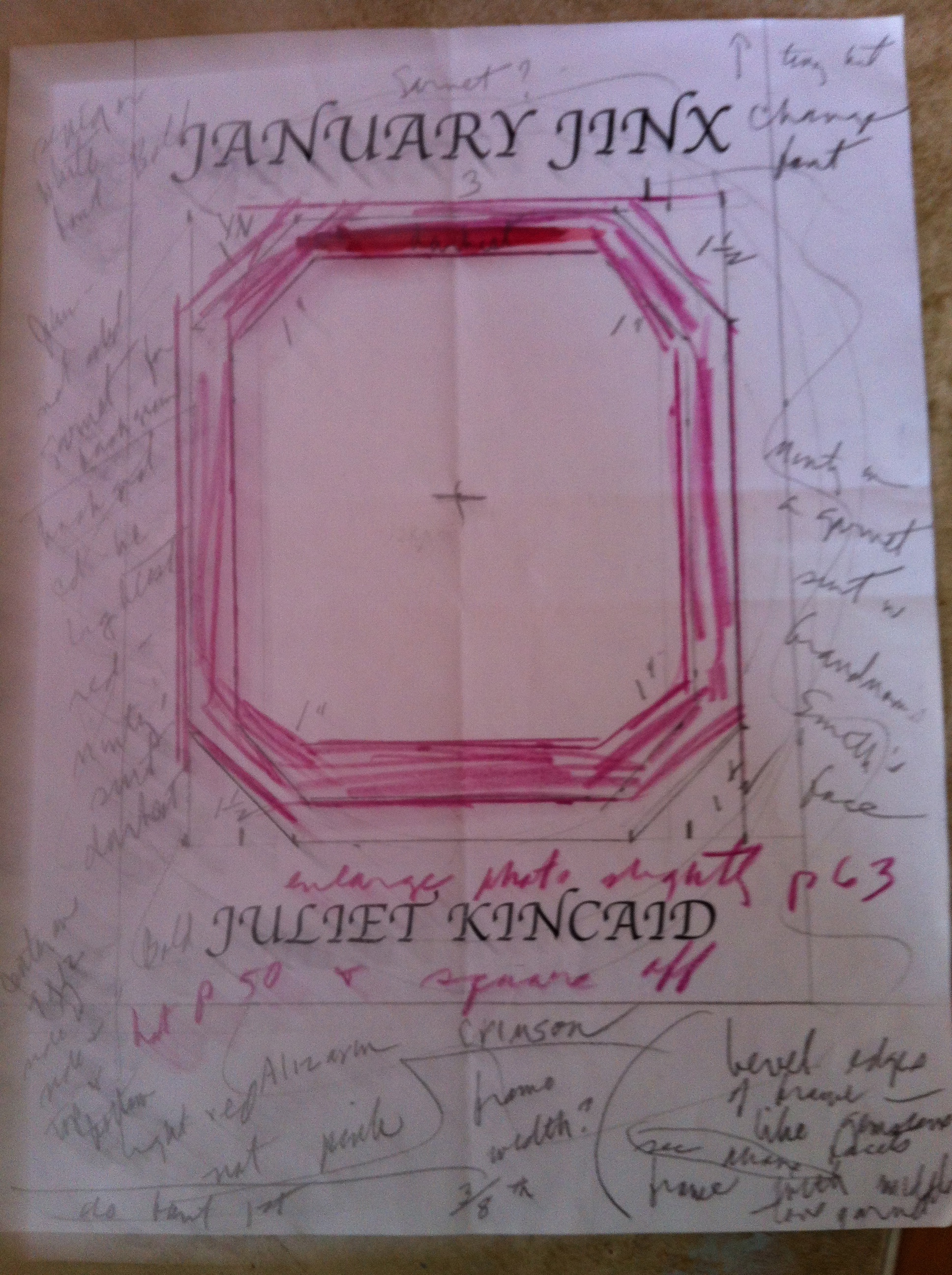 Then I ran into trouble with the frame. I did the outside edges, but I couldn't figure out how to do the inside points. I asked for help from Barbara O'Leary, my art teacher, who said, "It's just geometry, Juliet." Waving my hands hysterically, I shouted, "Do you know how long it's been since I had geometry?" Once Barbara showed me how, I quickly finished the frame.
Next I transferred my reference photo to my watercolor paper. Now, my mode of doing this is crude. I make a photocopy, reducing or enlarging as I need to. Then I cut the image out and draw around it on my paper. Finally, I refine the image with pencil.
Here's where I ran into trouble, lots of it, on my model's right hand, the chair, and the girl's face. With such a small painting, her eyes were barely an eighth of an inch wide. So even the tiniest slip of the pencil tip made them cross. But the principle of simplifying held me in good stead with all three problems. Minty's face ended up not looking much like my grandmother's, though.
The actual painting went along well except I accidentally got Alizarin Crimson a few places where I didn't want it. Mostly I fixed those glitches with the brush, but one I left to fix in Photoshop. Here's a photo of the cover in progress showing my pattern and the suit with a Payne's Grey undercoat.
(I cut out a copy of my grandmother's face and taped it to the copy of the first reference photo.)
3. Using Photoshop I completed the cover. By the time I did the cover of January Jinx, I already knew how to crop a simple image, to insert text, to adjust image size, and save a cover as a jpg file. To these skills and with advice of three different people, I added correcting images to my Photoshop skills. And so I removed the extra bit of Alizarin Crimson from the top inside of the frame. Here's the finished cover.
As usual during the process of publishing my own work, I learned a lesson. Reducing an image to such a small size creates problems like the one I had with Minty's eyes. So the next time I do a cover I plan on painting the image larger and reducing it in Photoshop. I have the skills for that, I think.
By now you might be asking why I go to all this trouble doing my own covers to save some money. The answer's simple. The covers of my books and stories may seem a little amateurish, but they look like no one else's. They stand out among other books on Amazon sell pages and on bookstore shelves.
January Jinx is now available as a Kindle eBook (www.amazon.com/dp/B00HSSSBE4) and the trade paperback is coming soon. You can buy also Cinderella, P. I. and Other Fairy Tale Mystery Stories as a Kindle eBook (www.amazon.com/dp/B00GMMUSTI) or trade paperback. Walls, a Cinderella, P. I. Novel is available as an eBook (www.amazon.com/dp/B00FQLQ2WI) and trade paperback.