Today we have cards for other important two characters in your novel . . .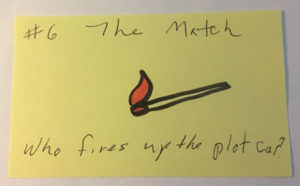 Card # 6
The Match
The Match Card asks the question,
"Who fires up the plot car?"
 I know. I know. This is a bit of a mixed metaphor because you wouldn't really want to burn up a car. Still, I think the image of the match works well to get at the nature of another essential character that you'll need–someone who appears near the start of your novel to get the plot going. Once you're onto this sort of character, you'll see lots of them in the novels you read.
For example, a noir mystery novel often starts with some blonde, wearing a tight black suit and stilettos, swaying into the tough private eye's office to hire him to find out who murdered the victim or where her sister has gone. Several of Robert B. Parker's Spenser novels start with potential clients–though not usually sexy blondes–entering his office.
Sue Grafton has a woman wrongfully imprisoned for murdering her husband come to Kinsey Millhone to discover the true killer at the start of A Is for Alibi.
Early in Sara Paretsky's Indemnity Only, the first V. I. Warshawski mystery, the private investigator heads to her office at night through steamy Chicago to meet a potential client who refused to give his name to her answering service. But she needs to pay her bills, so she goes to her office, and thus she meets a man who wants her to find his son's missing girlfriend.
I've given examples from mystery fiction, but that's not to say writers of other sorts of fiction don't have this sort of character, too. For instance, J. R. R. Tolkien's The Hobbit begins with the wizard Gandalf arriving in town and carrying Bilbo Baggins off on an adventure.
Fiver's horrid dream of death and destruction to the warren sets in motion the long, epic journey of the rabbits in Richard Adams' Watership Down.
Wanting husbands for her daughters, Mrs. Bennet gets the plot of Pride and Prejudice going by sending her husband to call on the eligible and rich bachelor Mr. Bingley who has rented an estate nearby.
Card # 7
The Mouth
The Mouth Card asks the question,
"Who tells the story?"
Novelists have many options for narrators for their books and exactly how those narrators will present the narratives. I'll give you some common choices. I'll also note that sometimes, once you get into your novel, you might change your mind from what you write down on your card initially and what you later decide might be a better choice. The common terms for these choices are viewpoint, point of view or perspective.
By far the most common choice of point of view is first person from the perspective of the protagonist, that is, the guy or gal in the driver's seat of the plot car. "That day when I saw this dame come in my office door, I said to myself, 'Mike Hammer, you know she's trouble. Gorgeous, but trouble.'"
But sometimes the first person narrator who tells the story in his own voice isn't the protagonist, but the second most important character in the work, the ally. This can be due to a very practical reason: the protagonist dies before the end of the novel. That's one reason why Chief Broom tells McMurphy's story in Ken Kesey's One Flew Over the Cuckoo's Nest. That's why Nick Carraway tells Gatsby's story and Ishmael tells Captain Ahab's. "And I alone remain to tell the tale . . ."
(Believe me when I tell you that few things annoy a reader more than getting to the end of a novel and finding out the person telling the story has been dead the whole time.)
Narrators can be innocent and say more than they understand, at least in the early pages of the novel, like Maisie in Henry James' What Maisie Knew, for example. Ishmael of Moby Dick is sort of an innocent, too.
A narrator can be reliable like Nick Carraway. Or a narrator can be unreliable, like drunken, deceitful Rachel Watson, The Girl on the Train, in Paula Hawkins' best-selling psychological thriller.
Speaking of that book, it's told in first person from three women's points of view: Rachel, Anna and Megan. If you're an experienced novelist and want to use multiple first person viewpoint, I say go for it. If this will be your first novel, I'd say save this choice until your later books and keep this one simple.
Another very common choice is third person narration limited to the perspective of the protagonist. All of January Jinx, my first Calendar Mystery, and most of the second, Fatal February, stick to my protagonist's point of view in third person. One advantage of this sort of viewpoint is that it gives some distance for the reader on the action. It can do the same for you the novelist, too.
You might consider using an omniscient viewpoint, a popular choice in 19th century novels. That's when the narrator is some sort of godlike, all-knowing creature who looks down at the characters in the book. An early and famous example of this sort of point of view is Thackeray's Vanity Fair in which the narrator sometimes says things like "So what do you think of Becky Sharp now, dear reader?" Occasionally omniscient viewpoint cropped up in twentieth-century novels and even twenty-first century novels like Markus Zusak's The Book Thief.
But these days, most novelists stick to a third person perspective that's limited to a couple of characters, the young woman and her potential lover in a categorical romance, for instance, or no more than four or five even in a huge book like Stephen King's 800+ page American epic The Stand.
A word of caution about shifting from first to third person . . . In T Is for Trespass, Sue Grafton shifted back and forth from the third person viewpoint of the antagonist and the first person perspective of series protagonist Kinsey Millhone instead of sticking to Kinsey's perspective as Grafton did with most of the books in the series. But Grafton had lots of writing practice by then. She also started the book by using third person point of view to set up that expectation before she moved to Kinsey's usual first person viewpoint instead of springing that character's angle on the story suddenly and without warning later on.
Andy Weir used the device of Mark Watney's log to alternate smoothly between first person and third person sections of The Martian. Throughout Mischief in March, the third novel in my Calendar Mystery series, I have Minty Wilcox write in the journal that she calls A. M. Wilcox's Investigation into All Things Daniel Price and thus she moves back and forth between first person and third.