A New Beginning: Fall 2022 Newsletter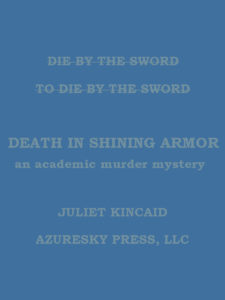 A New Beginning to Die by the Sword aka To Die by the Sword aka Death in Shining Armor
Night . . .
Saturday, September 10, 1988
The Medieval Fair Site . . .
I didn't want much that night, just to go out to the shop on the Med Fair site to drop off some pots and cups and mugs that had finally cooled off enough to pick up from the Ceramics Department of the City College of Art and Design back in town.
Now let me tell you why I decided to open Ye Old Oddities Shoppe and sell my pottery at Med Fair that fall. It was because there I was, pushing forty, and still working in the Registrar's Office at C-CAD where I graduated with highest honors way too many years before. (Not going into the life-happens events that kept me working there for so long right now.) And I didn't want to still be at C-CAD when I turned forty the next year.
Instead, I wanted to make and save enough money from Med Fair and other ways that I could go to the university the next fall, get a job as a teaching assistant and get experience in the classroom, get my master's, and become a professor of ceramics at some college or university for the rest of my life. It would be ideal, I thought, to teach the same thing that I loved to do.
But . . .
BUT, thanks to some crazy person wearing armor from head to shiny toes, I about got myself killed that night, the first of several attempts to murder me.
<> <> <>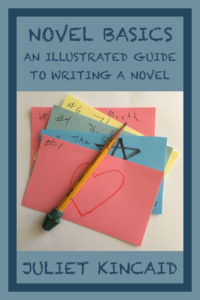 Something interesting happened recently after I revised my Novel Basics, An Illustrated Guide to Writing a Novel. I noticed that I didn't follow my own advice in writing Death in Shining Armor, a novel that I've worked on for decades in several different forms. That is, I didn't establish early what the protagonist wants to accomplish in her journey. I mean the very first card in the brainstorming system I describe in Novel Basics is called the heart card for a novel and asks the question "Who wants what?" for goodness' sake. And I blew the beginning of my own novel. Oops! So I figured out what my protagonist wanted and put it on the first page.
I also took some of my own advice presented in my concise yet complete guide to writing a novel: If you're having trouble with a novel, play around with the point of view, that is, the perspective in time and space of the narrator. Most of the earlier versions of the book were in what's called third person point of view (she/he/they, her/his/their, etc.) limited to three characters. But when I restricted the perspective of Death in Shining Armor to only one character, the novel's protagonist Vanessa Laura Mathison aka Van the Potter speaking directly to the reader in first person (I/me/mine), she started talking to me, too. And the novel started coming to life in ways it hadn't done before. Propelled by that new beginning, I'm now about eighty pages into the novel.
FYI: the new eBook version of Novel Basics, An Illustrated Guide to Writing a Novel, that now includes a section on self-publishing, is available at www.amazon.com/dp/B07K2LXFRP for $3.99 Plus, it's always free through Kindle Unlimited. Also, I'm offering the eBook on Amazon for only $0.99 from Friday September 30 through Thursday October 6, 2022. It's your perfect resource to prepare for National Novel Writing Month 2022.
Best, Juliet
P. S. Currently, I'm rebooting eBook versions of some of the short stories and books in both my Calendar Mystery series and Cinderella, P. I. Fairy Tale Mystery series through several different retailers in addition to Amazon. To keep up with my publications on Amazon, click here: https://www.amazon.com/Juliet-Kincaid/e/B00DB4HWRG. And to keep up with my publications through other retailers now including Apple Books, Barnes & Noble, and Kobo, click on https://books2read.com/author/x/subscribe/1/305166/?preferred_retailer=0&book=927193 and complete the form.