A WiP Report
Recently I read Chris Fox's Relaunch Your Novel, filled with tips about making money from one's backlist. So I decided that it was the perfect time to bring out a boxed set of my first three cozy historical mystery novels plus a short story that follows the last novel. Little did I know (as cheesy fiction says) that I'd need to add a couple of things to my skill set. One of these required lots of trial and error and the time to make stupid mistakes and to fix them.
Assembling the text for The Calendar Mysteries Books 1 – 3 took little time since I just had to put together the most recent text files for January Jinx, Fatal February, and Mischief in March, plus "Detectives' Honeymoon" with appropriate front and back matter. The latter now includes a promo for Old Time Stories, Book 4 of the series. Being finicky that way, I also ran a complete spell/grammar checker.
But then as what seems to be my habit, I got in a hurry and loaded the text onto Kindle Direct Publishing before realizing that I forgot to do a Table of Contents. And when I tried to do that, I discovered that the method I used for the trade paperback versions of my publications didn't actually provide live links in the eBook version to the items listed in the Table of Contents. So I dug out the manual to Word and found out how to do that.
Learning how to create a 3D cover took lots more time. I started by looking at models on Amazon. I did some sketches of the front cover I wanted and flew them by my daughter who did the covers for the individual novels. And then I tried to find a template on KDP. No help. So I Googled the topic to find instructions. As usual, I found services that would do it for me. But it's a matter of dollars and cents that I do everything involved in publishing myself. A video I watched went by so fast it didn't help. Then I found a slide show that helped quite a bit – except for that author's blithe assertion that I could do a 3D cover myself in five minutes. Oh sure. Now that I've figured the process out, I still think that I couldn't do it in five minutes even doing a much simpler cover than I designed. It had ten elements: three 6" by 3" background panels, three thumbnails of the book covers, a box for the text, and three spines for the novels.
Also I found confusing the dimensions in pixels that the author specified for a 3D boxed set cover. Luckily, when I went back to one of the models I'd found and when I measured the thumbnail, I saw it was 2" by 3". Then I had an aha-moment and realized the 3D cover for the boxed set had to fit inside the 6" by 9" rectangle KDP requires for covers. So then really all I had to do was decide on the dimensions of the cover and the spines, put them together, and skew the corners in a bit for the proper 3D effect. (Tip: With Photoshop for a Mac, go to Image > Transform and click on Skew.) That's another skill I added to my set. (FYI: I settled on 4.5" by 9" for the front, and .5" by 9" for each novel spine.)
But when I printed out the cover, I thought that the text for January Jinx didn't show up well on the dark garnet colored spine, so I started the whole cover almost from scratch, brightened the bottom panel, and the spine panel. Then again I got in a hurry and put the three cover panels together in the wrong order in the background, so I had to redo that. And then when I redid the spine section for January Jinx, I made the font too small and had to redo that.
With all my trials and errors, I ended up with 57 different files in that folder, including both jpeg's and Photoshop versions. (Tip: when you get all done, make a new folder for the final text and cover files. This will save you a lot of time scanning those filled folders to see which one you need to publish.) I really have no idea how much time I spent on this. And it's still not perfect. But I'll no doubt be faster the next time I decide to do another boxed set (unless it's been so long a time that I have to relearn the whole process).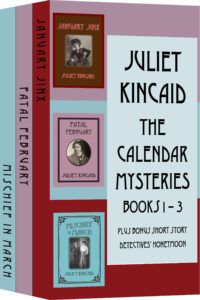 The Calendar Mysteries Books 1 – 3 is now available to pre-order for the initial price of only $3.99 at www.amazon.com/dp/B07QDKF413 That's a great bargain for a book 972 pages and 256,836 words long.