My Once and Future Novel (Part 2, I think)
Hi, All!
A few nights ago, I thought about retiring on my birthday coming up really soon on 9/11/2021. I'll be eighty, and maybe it's time to stop. I told myself that maybe I'd be happy and fulfilled reading and reviewing other people's books and taking weekly art classes.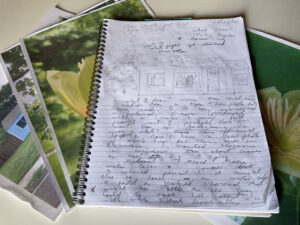 But who am I kidding? Nothing gives me more joy than being lost in the fiction I'm writing. Besides, it's back. . . In this case instead of a monster, I'm talking about my once and future novel, the one that I've worked on for about three decades, the one set in part at a Renaissance Festival sort of event and in part at activities of a group similar to the Society for Creative Anachronism. This is a book concept that just won't let me go.
Over the past thirty years, this book has gone from a fairly conventional detective mystery with one protagonist to suspense with quite a different protagonist. Overall, I think I've produced three different detective mysteries and two versions of the basic story as a novel of suspense. In fact, one of the challenges for me, now that I'm having at it again, is to locate scenes I vividly recall writing though when and in which notebook and which digital file, I'm unsure. I know that some of you have read an earlier version. In fact, I still have your comment sheets along with print-outs. But right now I can't remember where I put them.
The characters have undergone several variations as well. For instance, I have two characters whose role is providing the protagonist (whoever the heck that turns out to be) with information about the Ancient Ways Society. The twosome started out as a lesbian couple, one white and the other Black. Eventually, they became an elderly man and not so elderly woman with a very large Great Dane. As I embark on the final version, I'm not sure I really need the dog. But I really can't predict at this point.
The book also has a couple of working titles: Death in Shining Armor and Die by the Sword. I took a poll on Facebook recently and most of the people responding favored the first one, as did I. But once I really got into the first chapter, I decided that Die by the Sword was the better choice. But you know what? The book is alive and well and I'm looking forward to completing it.
Meanwhile, I've had lots of distractions. For one thing we've been dealing with a leaky roof and predatory roofers, but we've found a decent one now. But once the dust settles on that and other issues, I hope to plunge back to the book . . . I'll keep you posted on the project next month.
Best, Juliet