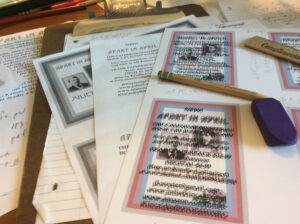 As you can probably tell from the photo, my trials making postcards to promote my publications often include plenty of errors . . . And now that the touch pad on our multi-purpose printer no longer works, we need a printer, especially to print color images on the front sides of postcards that I make to promote my work. So I'm wondering, do I really need to replace the printer? More to the point, even if we buy a new printer, do I really need to make postcards to promote my books at all? Maybe not . . .
Note: I prefer postcards to business cards because I just can't get enough information on the typical business card, for example, information about a new book like the book blurb ("love, loss, dangerous secrets, and FUN" for my new Apart in April ), the series blurb ("mystery and romance in old Kansas City, a place that could get downright dangerous a hundred years or so ago" for my calendar mystery series), the link to the sales page, and social media information.
Of course, like most authors, I mostly promote my stories and novels through social media and online advertising. And indeed for well over a year I had no in-person meetings or social events to go to like most other people on the planet, so I didn't need postcards.
And to be frank, now that I do have some in-person, non-Zoom book club, writers', and retirement association meetings to go to, I'm still a little shy about handing out postcards. There might be that rude person who flings up his hand when I hold out a card as if it were a viper. (That's happened to me.) Still, at the last two out of three meetings I went to, my friends eagerly took the postcards I offered them. So I'm leaning toward making some more postcards.
I'll end this exploration with a question for you. As a potential reader, what do you think about an author giving you postcards to promote their work?