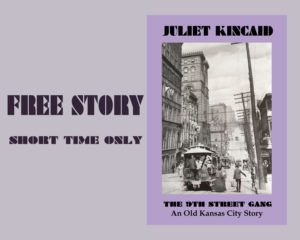 "The 9th Street Gang"
"Stop! Thief!" a woman screamed. Across the lobby, outside the New England National Bank stood a stooped woman in black and a raggedy little boy. The woman pointed to a fellow running up the stairs and shouted, "Come back here with my purse." Then, seeming to notice Minty and Daniel for the first time, she said, "That man took my purse!"
"Hold this, darling girl," Daniel said.
Minty took the shopping bag fragrant with the lunch they'd just purchased from the deli down the street and clutched it to her chest as Daniel sprinted off past the elevators.
After that, in quick succession, the boy who'd opened the doors for them whistled sharply and shouted, "Let's get out of here, Mick!"
The little kid turned away from the screaming old lady and limped up to Minty. "Please, ma'am, could you spare a nickel?" he said. "I ain't eat nothing yet today." He gazed up at Minty with heart-breaking blue eyes.
"No time for that now, Mick," said the boy who'd held the door for Minty and Daniel. He snatched the shopping bag out of Minty's hand and pushed past her to the door.
"Hey!" Minty said. "Give that—"
In their first case together as a detective couple, business girl Minty Wilcox and the dashing Daniel Price pursue a gang of thieves plaguing Kansas City in February 1900. Distractions include the objections of their boss to any show at all of their affection for each other inside the office and out and Minty's wayward thoughts about the secret married couples keep to themselves. Join the fun, mystery and romance of this Calendar Mystery short story that takes place between the events of Fatal February and Mischief in March. And along the way you'll meet the son of a famous outlaw.
Praise for "The 9th Street Gang"
If you wish for something pleasant to get your mind off the lately awful news, delve yourself into the story of three little hoodlums that steal this story from the endearing main characters and enjoy the tidbits of Kansas City history. Amazon Reviewer