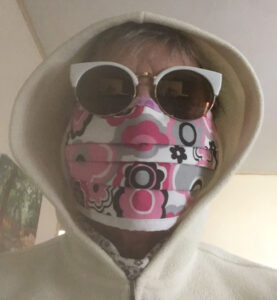 Hi, Everybody!
The first photo was me as Covid-19 Alien Juliet about a year ago. But thanks to receiving both my shots and the lifting of the mask mandate, lately I've been able to do some things for the first time in over a year.
For example, about a month ago, my daughter Jess and I ventured out to some place besides walking to the post office, picking up dinner from a restaurant or going to the grocery store. And that was to a place called Whiskers Cat Cafe where kitties recline on fake fur in sybaritic bliss.
This month for the first time in over a year, I went to a couple of in-person meetings instead  of via Zoom. One evening my book club met in person outside on a member's driveway.  Since we all had received both our shots, we removed our masks and raised our hands with the V for vaccination for some photos our hostess's husband took. And this month, the chapter of Sisters-in-Crime I belong to met outside a member's house on the deck. It was lovely to be with friends in person at both meetings.
The best outing requires a bit of background. On the twelfth of every month, my daughter and I celebrate her being seizure-free for another month with a special meal. For the past fifteen months, we've done pick-up for dinner that evening. But May 12, 2021, marked the ten-year anniversary of Jessie's last seizure, so we ventured out to a restaurant to celebrate this momentous event.
I'm also quite pleased to announce that I've resumed taking a weekly art class after a break of more than three years. Here's my first piece. The medium is colored pencil, and it's supposed to be a peony though it resembles a head of red cabbage with strange leaves.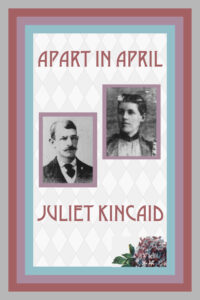 I'd hoped to complete Apart in April, Book 5 of my calendar mystery series featuring a business miss and a dashing detective from newly met to newly wed and beyond in Kansas City, a place that could get downright deadly a hundred years or so ago,  in time to publish it in April this year. But it took more time in the editing phase to do a good job of it, and I decided not to rush. Rushing a project always creates opportunities to mess up. So now the publication date is June 30, 2021. You can pre-order the eBook for the special initial price of only $2.99. Here's the link: http://www.amazon.com/dp/B095J4BB94
Till next time, all the best, Juliet