Mystery . . .
Romance . . .
A Most Improper Honeymoon . . .
Join business girl Minty Wilcox and detective Daniel Price in old Kansas City as they sleuth, get to know each other, and fall in love in six stories that occur before, between or after JANUARY JINX, FATAL FEBRUARY, and MISCHIEF IN MARCH, the three novels in Juliet Kincaid's Calendar Mystery series, in OLD TIME STORIES, a collection of fiction and nonfiction.
In prequel story "The Barn Door," Daniel goes undercover to help an old man overrun by his young wife's free-loading relatives. Daniel also meets a pretty gal called Minty. He'll probably never see her again, he thinks.
In "Lost Dog," a second prequel story, Minty saves a stray pooch from a mean neighbor. And as she looks for the dog's owner, her thoughts wander to the good-looking gent she met the day before.
Skipping forward six months, Daniel lures Minty off on a mysterious streetcar ride that ends with a surprise in "Two Birthdays."
The next year, soon after Minty and Daniel become engaged, they pursue "The 9th Street Gang" and discover some of each other's finer qualities. (They also sneak in some canoodling.)
A few weeks after that in "Detectives' Honeymoon," Minty and Daniel find their wedding trip in peril because of a dead body they discover in their bed.
And in "The Shackleton Ghost," published here and nowhere else, they search a house that might be haunted by a vengeful ghost. (They sneak in some more canoodling.)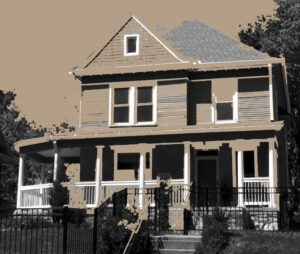 In this snippet from "The Shackleton Ghost," available exclusively in OLD TIME STORIES, Minty and Daniel, just returned from their most improper honeymoon on April 1, 1900, and Minty's younger brother and sister talk about why Miss Whitmore doesn't want to stay in the house next door.
"I know the real reason why Miss Whitmore doesn't want to stay over there,"
Eddie said. "And it's not because of that will business."
"I do, too," Peach said.
"So what is the real reason, you two?" Minty asked.
"She's scared of the ghost," Peach said.
"The ghost?" Daniel said. "What ghost?"
"There's a ghost in the Shackleton house next door," Eddie said. "Sure as shooting."
"Is that your April Fool's prank, Eddie?" Daniel said. "If it is, it's pretty far-fetched. It might be even less convincing than my description of our wedding trip to the moon."
"It's not an April Fool's joke," Eddie said, raising his right hand. "Honest Injun. There's a ghost over there and Miss Whitmore is afraid of it. It's her guilty conscience. I bet old Miss Shackleton came back to haunt her."
Indeed, Miss Whitmore might have good reason to feel guilty about the death of Agnes Shackleton . . .
OLD TIME STORIES also includes eleven nonfiction pieces about the real people and places that inspired Juliet Kincaid to tell the story of Minty Wilcox and Daniel Price from newly met to newly wed and beyond in Kansas City, a place that could downright deadly a hundred years or so ago.
Five-Star Review of "The Barn Door"
"This short prequel story to the first book, January Jinx, is fun and introduces us to the two main characters, Daniel and Minty, before they actually meet. I especially like the descriptions of Kansas City in the 1900's as well as the vivid descriptions of the characters. Read 'The Barn Door' and you will not be disappointed." An Amazon Reviewer.
Five-Star Review of "Lost Dog"
"What a delight to find myself in 'old' Kansas City again with such wonderfully drawn characters. I feel I know them and would love to follow them along the street while looking for the lost dog's owner and I could just push that old neighbor back into the bushes after rescuing the poor dog from her vicious beating. Oh, this author brings them so alive and that is what keeps me reading her stories." An Amazon Reviewer