Hi, Everybody!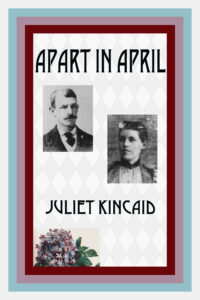 Here's the cover for the fourth novel, fifth book in my calendar mystery series featuring the former business girl, Minty Wilcox, now Price, and her dashing detective husband Daniel, in Kansas City, MO, a place that could get downright deadly a hundred years or so ago.
I had lots of trouble making this cover fit into the birthstone theme of the series. I mean what can you do with white for goodness' sake? But finally this version is coming along though it needs tweaking here and there. FYI: I stole the lilacs from a lady's hat that appeared in The Delineator of August 1901. And a while ago, my cousin Sarah Faye Morse Meurer very kindly sent me the photos of our grandfather Miles Smith and our grandmother Juliet Perkins Smith.
Here's the blurb for the book: After a personal tragedy on Easter Sunday, April 7, 1901, Minty Wilcox Price runs away from home, strewing letters behind her like Hansel's bread crumbs for her husband Daniel to find. Can he overcome his own grief and anger to figure out where she's gone and with her solve the case of "The Ravished, Murdered Chambermaid"?
I'd appreciate any feedback on the cover and blurb you'd care to give.
As for the book itself, I hoped to be farther along with the final draft by now.  But life has thrown some interference our way this past month that has taken up my time. For example, though we didn't lose our power or heat during the recent Arctic blast, our water pipes froze when the temperature reached 15 below here near Kansas City. But my daughter Jess and our next-door neighbor's son made a sort of bucket brigade to bring water to our house. And our pipes thawed on their own when the temperature moderated a bit.
The cold also complicated our grocery shopping. Lately we've shopped on line, and then Jess drove to the store to pick it up. But there was no way either of us wanted to go out on snowy streets when it was 7 below zero outside. So we tried to reschedule at first and then to cancel. But apparently their shopping app doesn't handle changes well, so the shopper shopped our order not once but twice. And even after several phone calls and twelve days, the charge remains on my credit card. Sigh . . .
But I'm making progress on my project overall, and probably I'll meet my deadline, the end of April. Also I'm struck by the way I still learn lessons about the process, or in this case, relearn them. For example, yesterday I struggled all morning to get information about a new setting, a ranch in the Flint Hills of Kansas. Originally, I'd planned on asking a friend of mine if I could tour her family's ranch. In a pandemic? Well, no, I literally can't go there. So then I spun my wheels all morning looking for virtual tours and taking two dozen screen shots of prairie hills. But then finally, I remembered the sage advice I received back in the 80's from a writer friend. "Think film," she said. So then I CUT TO the front door of the farmhouse I needed Daniel to visit and blew that writer's block up.
Stay safe and well, my friends. Get the shot soon if you haven't already. (I have an appointment for next Wednesday.) Best, Juliet
P. S. Mischief in March, the third in my calendar mystery series, is only 99 cents from March 3 through March 9 at http://www.amazon.com/dp/B06XR1STRN
It's also a penny less than a pound at http://www.amazon.co.uk/dp/B06XR1STRN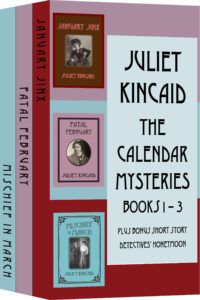 For an even better bargain, you can buy the boxed set that includes the January Jinx, Fatal February, and Mischief in March, the first three novels of the series, and the bonus short story "Detectives' Honeymoon" from March 24 through March 30 for only $2.99 at http://www.amazon.com/dp/B07QDKF413  (British friends, for a similar bargain price, check http://www.amazon.co.uk/dp/B07QDKF413)