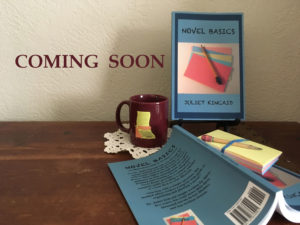 The online version of my Novel Basics class starts here and on Facebook tomorrow, March 27, 2020.  Here's an introduction.
Novel Basics Online Class
How to Brainstorm a Novel with 20 Index Cards
I know you're out there. I've met you in some way or another.
Maybe you're the less than confident young woman in an online group I belong to who wants to start your coming-of-age novel about growing up in the Ozarks amid the opioid crisis, but you don't quite know how to do that.
You could be a short story writer intimidated by the sheer size of a novel.
Or maybe you're the man I talked to at a local authors fair who always meant to get back to that novel you started twenty years ago, but now it sits hidden in a drawer at home.
Perhaps you tried to write a 50,000-word novel during a National Novel Writing Month event, but you didn't make it all the way through.
Or you did finish and now you have the diploma declaring you a NaNoWriMo winner, but you don't know what to do next.
Let's say that you're the author of a brilliant, well-received first novel who can't get that sophomore effort together.
You could be a best-selling author on a tight schedule who needs to get cracking on the next book in your series.
Or you're the author of a best-selling series for which you still have a ton of ideas, but a notion for a brand new book or series has crept into your head, and it's so strong that it wakes you up in the middle of the night. Still, before you commit, you'd like to explore it.
Maybe you're writing a nonfiction book about yourself growing up or a shocking event that happened in your hometown, but you're thinking the book might be better as a novel, so you can distance yourself from the material emotionally and have more latitude with facts.
Maybe you're like me. You have several completed novels in your file cabinet that you could never get an agent or publisher interested in, so you gave up on those projects. Possibly taking a little time to explore one of those will help you decide if it's worthwhile for you to go back to it.
Or maybe you don't fit into any of these slots I've mentioned, but still you're like the rest of us. You've got an idea sparked by that powerful question "What if?" that keeps bugging you, an itch you'd like to scratch at least a little bit.
Maybe you're not a writer. Instead, you're an avid fiction reader who would like to learn more about the novel so you can sharpen your insights into the selections you discuss at your book club.
Regardless, I'm thinking that my method using twenty 3" by 5" index cards will help you to brainstorm your novel or study someone else's. There's no time like the present . . . So get your cards and join me here tomorrow or on Facebook at http://facebook.com/JulietKincaidauthor2016
If you prefer to go faster than a card a day, you can buy the Novel Basics book available in print from Amazon and as an eBook for only $2.99  at http://www.amazon.com/dp/B07K2LXFRP