A WiP Report
The closet in my bedroom in our little house isn't big enough to accommodate my entire wardrobe, so this time of year I move my dark blue and gray sweat pants, my flannel shirts, my black and my brown fleece hoodies from the back of the house to the closet in the home office at the front of the house. I usually park my winter clothes on a chair while I haul out my spring and summer jackets, lightweight and colorful slacks and shirts (orange, peach, bright pink, yellow – oh joy!) and a skirt or two. I hang them on the door while I fill the front closet with items I won't wear again for six months or so.
But the transition between winter and spring has been hard this year because of the late snowstorms and cold weather we've had around here. So some of my fleece pants and jackets have made the trip across the house two or three times.
My transition between writing projects has been prolonged and difficult as well.
Originally, I planned on continuing my cozy historical Calendar Mystery series set in Kansas City with an April book. I've had a very strong idea for this book for more than a year. But life-happens events gobbled up the time I needed to write that book and finish it this spring. And so I stopped working on it and set my sights on writing a book to bring out in fall that would start a new series.
Even that took several weeks because I dithered among three possible ideas, all of which involved books that I've already at least drafted: a science fiction novel set in a dystopian, matriarchal society that I wrote in 1986, a vast historical novel set in the Ancient World that I completed in 1989, and a series of academic mysteries that I've been fooling around with for years and years in one form or another. Characters from all three projects have called to me lately, the big historical especially, so much so that I hauled out the old notebooks and boxes of manuscripts for that project and put them on the shelf where my calendar mysteries lived for so long.
If I gave the heroine tiny feet like Cinderella and put dragons in the series, I'd make it into historical fantasy, and it might sell quite well as such. I could call the first book in the series The Spoils of War and market it as the next Game of Thrones, yet somewhat softer to suit my largely female readership.
But when I read Madeleine Miller's marvelous novel The Song of Achilles, I began to doubt my ability to come up with enough detail to make one novel, let alone a series, come alive and sing. I also had problems even figuring out where in the future world I'd put the characters and action of the dystopian novel.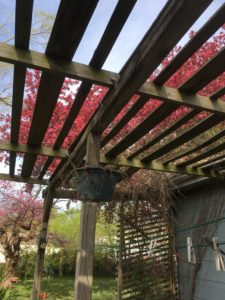 Then suddenly at last it became spring. And looking out my kitchen window as I washed dishes one evening, I admired my crab apple tree in bright bloom through the pergola. And I thought, if I write the contemporary mystery series, I could set it in my neighborhood. That way, I'll find details everywhere.
And so, I've began brainstorming a new version of Fall into Murder, a contemporary cozy mystery that I drafted during my first participation in National Novel Writing Month in 2014. I'll keep you posted on how it's going.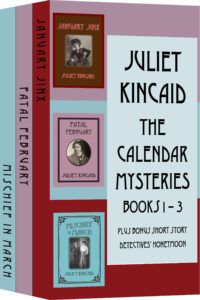 Please note that I've put together a boxed set of the first three novels of my cozy historical Calendar Mystery series that tells the story of business girl Minty Wilcox and dashing detective Daniel Price from newly met to newly wed and beyond in Kansas City, a place that could downright deadly a hundred years or so ago. It's now available to pre-order for only $3.99 at http://www.amazon.com/dp/B07QDKF413