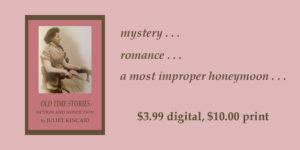 Join business girl Minty Wilcox and detective Daniel Price in old Kansas City as they sleuth, get to know each other, and fall in love in six stories that occur before, between or after JANUARY JINX, FATAL FEBRUARY, and MISCHIEF IN MARCH, the first three novels in the Calendar Mystery series. Included are "Detectives' Honeymoon" which starts exactly where Book 3 ends and "The Shackleton Ghost," published here for the very first time. OLD TIME STORIES also includes eleven nonfiction pieces about the real people and places that inspired Juliet Kincaid to tell the story of Minty Wilcox and Daniel Price from newly met to newly wed and beyond in Kansas City, a place that could downright deadly a hundred years or so ago.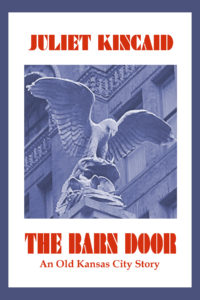 Five-Star Review of "The Barn Door"
"This short prequel story to the first book, JANUARY JINX, is fun and introduces us to the two main characters, Daniel and Minty, before they actually meet. I especially like the descriptions of Kansas City in the 1900's as well as the vivid descriptions of the characters. Read 'The Barn Door' and you will not be disappointed." Amazon Reviewer.
Five-Star Review of "Lost Dog"
"What a delight to find myself in 'old' Kansas City again with such wonderfully drawn characters. I feel I know them and would love to follow them along the street while looking for the lost dog's owner and I could just push that old neighbor back into the bushes after rescuing the poor dog from her vicious beating. Oh, this author brings them so alive and that is what keeps me reading her stories." Amazon Reviewer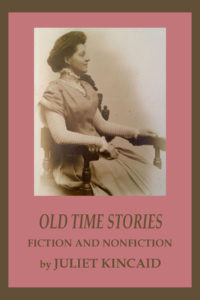 OLD TIME STORIES is now available as an EBOOK at www.amazon.com/dp/B07F4JL8D5 and a TRADE PAPERBACK exclusively from Amazon.