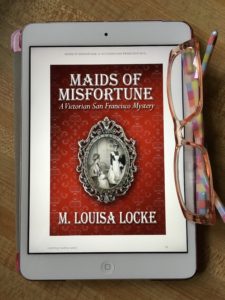 Maids of Misfortune by M. Louisa Locke, a review by Juliet Kincaid
This historical novel, set in San Francisco in 1879, hooks you from the start with the widowed Annie Fuller receiving a letter claiming that she owes some gent the sum of $1,380 for a loan made to her late husband. If you keep in mind the statistic that what you could buy for a penny in 1900 would cost you a dollar in 2000, you'll realize just how shocked Mrs. Fuller must have been with an unexpected debt of the equivalent of $138,000.
Dr. Locke follows through on her strong opening with the revelation that Mrs. Fuller supplements her income running a boarding house by giving advice on investing and personal matters as Madam Sibyl, a clairvoyant. Sibyl charges $2 (or $200 in 2000 dollars) a sitting and worth every penny of it, at least according to her favorite client, who sadly has died under suspicious circumstances. And so Annie goes undercover as the new hire maid to find out what really happened to him in this lively first book in Dr. Locke's Victorian San Francisco Mystery series.
A couple of quibbles . . . Descriptions of San Francisco seem a bit thin, though of course lots of that city as it was in 1879 disappeared in the great earthquake and subsequent fires of April 18, 1906. The romantic subplot with a handsome lawyer who soon shows up seems somewhat conventional. These reservations disappeared, though, as I read Uneasy Spirits and Bloody Lessons, the next two novels in the series as well as her collection of Victorian San Francisco stories. Obviously I remain hooked by the engaging Annie Fuller and I suspect that other fans of historical mysteries will enjoy the series as well.
FYI: Maids of Misfortune is permanently free for Kindle, Nook, and other eBook readers.