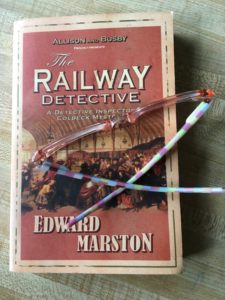 The Railway Detective by Edward Marston
A Review by Juliet Kincaid
The first in Edward Marston's Detective Inspector Colbeck Mystery series, The Railway Detective has lots to offer the historical mystery fan.
Marston brings mid-19th century Britain to life with vivid descriptions of places like London's Devil's Acre, for one example, and for another, the Crystal Palace, the site of the Great Exhibition in 1851.
Marston's gentleman detective Robert Colbeck is both capable and clever. Marston presents lower class characters like a moneylender named Isadore Vout with gritty, almost Dickensian detail. Nut he also gives us members of the growing middle class and the gentry. He provides Colbeck with a love interest, the lovely Madeleine, a damsel in some distress.
The story includes exciting action like a train robbery and train wreck near the start of the book.
The plot is solid overall, but this reviewer has one slight quibble with it, though. Time and time again, Marston lets Colbeck pursue leads right up to almost catching a bad guy, only for him to be a little too late. At points like those, Marston cuts from the action with the detective to a scene with the current bad guy. To my mind, these are slight plot spoilers that bleed away some suspense and tension here and there. I sort of changed my mind about this, though, when near the end of the book . . . Well, you'll get no spoilers from me.
If you're hankering after a visit to Victorian England, I strongly recommend The Railway Detective.