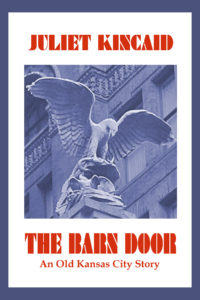 Here's a snippet from "The Barn Door," a prequel story to my calendar mystery series, set in old Kansas City, that features an old gent named Hector Jones in need of a detective.
The elevator operator had started to close the door when someone shouted, "Wait for me" from outside and a clean-shaven man of medium height stepped onto the car. He didn't remove his dark blue cap. "Thanks for waiting, Robbie," the man said.
"Sure thing, Mr. Price," the elevator operator said. "Going to the Ninth Floor, as usual?" he asked before he shut the elevator door.
Price? Hector Jones thought.
"Yes indeed," the man said, now standing near the front of the car on the right with his back to Hector.
Hector lowered his gaze and studied Price from the heels of his brown boots, the left one scuffed, to his dark gray mixed Kentucky jean pants, baggy in the seat. A pair of sturdy farmer's suspenders crossed a patch of his white shirt a little darker with sweat than the rest of it.
The attendant turned and looked at Hector. "Which floor you going to, sir?"
"As it happens, I'm going to the Ninth Floor as well, to Price Investigations," Jones said.
The man in front of Jones turned and took off his cap. "I'm Daniel Price," he said.
Take a break from expensive Christmas shopping and also get a change in the weather a lot cheaper than flying to Bermuda, and read my calendar mystery short story "The Barn Door" set on the July 4th weekend in 1898. This prequel story to my calendar mystery novels is FREE 12/08/17  #FreebieFriday through  #ShortStorySunday 12/10/17. Enjoy mystery and some possible romance in old Kansas City, a place that could get downright deadly a hundred years or so ago by getting "The Barn Door" for FREE at www.amazon.com/dp/B073G7ZXMP.