Hi, Everybody!
Just wanted to touch base with you all today.
In the last week or so, I've followed this advice somebody gave on the opinion page of the K. C. Star as a way to fight the anxiety and depression of living through a pandemic: "Find something that brings you joy, and give yourself over to it."
So I've gotten back into my writing and I'm really enjoying it though my plans on researching the weather for April 1901 for my book went sideways for a while because a couple of my favorite resources – the Kansas City Star archives and the Kansas City Library – said, "Oh we're shut down right now so we can redo everything. It will be great when we come back." Yeah, yeah, yeah . . . I need to know that stuff now. But I found another resource, so now I know generally at least what the weather was like on Easter in Kansas City a hundred and twenty years ago.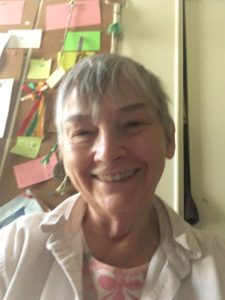 As you might be able to tell from the photo, my hair has gotten pretty shaggy. But I do have an appointment with my stylist the first Friday in June. And maybe until then I can trim up my bangs with my manicure scissors like Sue Grafton's Kinsey Millhone does from time to time.
And really, we're doing pretty well staying at home. Oh sure, I miss seeing my Game Night friends in person and going to the show at Cinemark. I really like to grocery shop in person instead of hiring someone to do it second hand. I'd rather exercise with my friends at the center instead of doing it at home through a Facebook Live link. Still, even though we wear masks, have to stay six feet from our neighbors, and can't pet their doggies, we can walk about the neighborhood pretty much as usual.
But best of all, Jess is on paid leave from her job so she's sheltering in place with me here in our little blue house. I can't tell you how grateful I am not to be doing this thing alone. Plus, Jess has gone really far in making this a wonderful Mother's Day for me. She cleaned the house! She baked peanut butter cookies! She gave me a pretty new top and fun jammies. She's fixing breakfast for dinner tonight. We hug each other whenever we like.
How are you all doing?
Best, Juliet