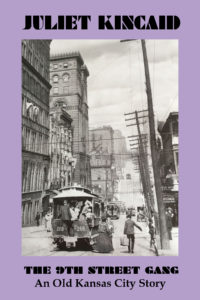 The 9th Street Gang
Friday 23 February 1900
Kansas City, Missouri
Happy to be wearing her old brown coat that the wet snow wouldn't hurt and galoshes over her boots because of the slush underfoot, Minty Wilcox marched along 9th Street at Daniel Price's side.
Daniel had bundled up in his tan overcoat, pulled his brown fedora down over his forehead, and wrapped a black muffler around the lower part of his face, so she could see only the red tip of his strong, aquiline nose and one dark brown eye squinting against the snow.
He's my fiancé, Minty thought. We're engaged! In just a few weeks time, I'll be Mrs. Daniel Price. And I'll be in on that secret married couples keep to themselves. Just thinking about solving that mystery set up a tingling in her lower parts.
When they came to the entrance of the New England Building, Daniel put his gloved hand under Minty's right elbow. "Watch your step, darling girl," he said. "You wouldn't want to trip and fall in this mess."
"Why, Daniel, you treat me like your elderly maiden aunt."
"You're decidedly not my aunt. And you're not elderly either," he said. "Though I do hope you're still a maiden."
"Of course, I am, you naughty boy," she said.
Review of "The 9th Street Gang"
If you wish for something pleasant to get your mind off the lately awful news, delve yourself into the story of three little hoodlums that steal this story from the endearing main characters and enjoy the tidbits of Kansas City history. A bonus is a peek at Jesse James Jr. as I had no idea he existed before reading this story. Good Job! This author always comes through with an enthralling story.
This fun short story is FREE from October 17 through October 21, 1900 at http://www.amazon.com/dp/B079YYVTTX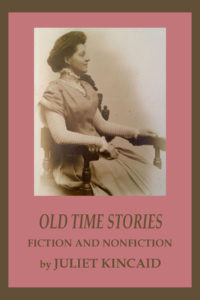 "The 9th Street Gang" is just one of six stories included in Old Time Stories that also includes nonfiction about the people and places that inspired Juliet Kincaid to write her Calendar Mysteries featuring smart business girl Minty Wilcox and dashing detective Daniel Price in Kansas City, a place that could get downright deadly a hundred years or so ago. Old Time Stories is now available as an eBook or trade paperback exclusively from Amazon at http://www.amazon.com/dp/B07F4JL8D5