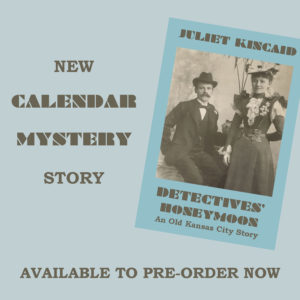 After resolving the mysteries of MISCHIEF IN MARCH, Book 3 of the Calendar Mystery series, newlyweds Daniel and Minty Price set off on their honeymoon. But due to a number of unforeseen circumstances, a Harvey Girl, and a would-be Sherlock Holmes,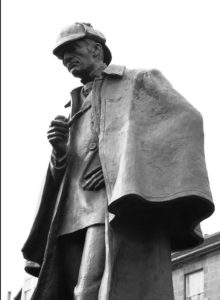 they come to fear that they won't have a honeymoon at all, in "Detectives' Honeymoon," the latest short story in the Calendar Mystery series featuring mystery and romance in old Kansas City. This story is now available for you to pre-order for only $0.99 (and free on Kindle Unlimited) at www.amazon.com/dp/B07D8H9JXN
"Detectives' Honeymoon" begins exactly where Mischief in March, Book 3 of the Calendar Mystery series, leaves off. Here's a sample.
A young woman, hands folded over her chest and ice blue eyes staring at the ceiling, lay on the bed that Daniel had bought for their new home. Fully clothed from shoes to a white bow ribbon in her blond hair, the woman wore a simple black dress with a long, white bib apron over it. Her white collar looked clean and freshly starched.
"Is she dead?" Minty asked.
Daniel bent over the bed and felt the woman's wrist. "Yes, she is. Very dead."
"Oh, dear," Minty said. "Poor girl." She covered her mouth with her hand, shaking slightly, and then dropping it, she said, "You know what, Mr. Price? I think she's one of Fred Harvey's girls."
"I believe you're right, Mrs. Price," Daniel said.