The Calendar Mysteries by Juliet Kincaid tell the story of Minty Wilcox and Daniel Price from newly met to newly wed and beyond in Kansas City a hundred years or so ago when life could get downright deadly.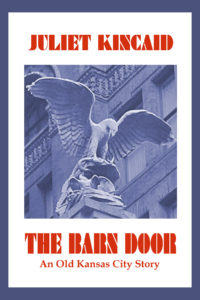 "The Barn Door"
A Prequel Story to Juliet Kincaid's Calendar Mystery Series
When Kansas City banker Hector Jones finds himself in need to a detective on July 1, 1898, he hires dashing Daniel Price. Daniel goes undercover as Jones' nephew, a traveling salesman, to discover the truth about the very young Mrs. Jones and briefly meets a pretty young woman named Minty whom he probably will never see again.
Praise for "The Barn Door"
If you have never read any of Juliet Kincaid's calendar mysteries you are missing out. This short prequel story to the first book, January Jinx, is fun and introduces us to the two main characters, Daniel and Minty, before they actually meet. I especially like the descriptions of Kansas City in the 1900's as well as the vivid descriptions of the characters. Read "The Barn Door "and you will not be disappointed.
"Lost Dog"
A Prequel Story to Juliet Kincaid's Calendar Mystery series
On July 5, 1898, a future career as a business girl as a typist/stenographer weighs heavily on Minty Wilcox's mind. But distractions ensue when her sourpuss spinster neighbor lays abuse on Minty's kid brother, sister, and a lost dog. Her mother's disapproval and several flirtatious gents don't help Minty in reaching her goal in this prequel story to Juliet Kincaid's Calendar Mysteries that tell the story of Minty Wilcox and Daniel Price from newly met to newly wed and beyond in Kansas City where life could get downright deadly a hundred years or so ago.
Praise for "Lost Dog"
What a delight to find myself in "old" Kansas City again with such wonderfully drawn characters. I feel I know them and would love to follow them along the street while looking for the lost dog's owner and I could just push that old neighbor back into the bushes after rescuing the poor dog from her vicious beating. Oh, this author brings them so alive and that is what keeps me reading her stories.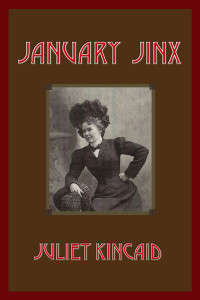 JANUARY JINX
Book 1 of the Calendar Mystery Series
By Juliet Kincaid
The first chance Minty Wilcox gets in January 1899, she sets off to find a stenographer's job in Kansas City. But her search is jinxed from the start. And in spite of her efforts to clear her name, bad luck spreads like a nasty cold from Minty to her family and to Daniel Price, their mysterious boarder as well. Minty feels that she brought all these troubles to her family and friends, so she must set things right. This won't be easy in Kansas City that could get downright deadly a hundred years or so ago.
Praise for JANUARY JINX
The delightful, creative, and charming January Jinx introduces a terrific character in Minty Wilcox, a good old-fashioned cozy mystery persona who will surely be able to carry the planned-for series. It's Minty who drives the readable narrative, and author Juliet Kincaid keeps the pace steady and fast at the same time for quite a readable experience. The writing is appropriate for the historical setting without ever being gimmicky or archaic . . . The unique setting of 1899 Kansas City is full of flavor that never overwhelms the story and the characters. With a terrific, original, but still comfortable series concept, there are certainly big things afoot for Juliet Kincaid and Minty Wilcox's Calendar Mysteries.
January Jinx is available as a trade paperback from Amazon for $15 and a Kindle eBook for $3.99 (or free from Kindle Unlimited) now at www.amazon.com/dp/B00HSSSBE4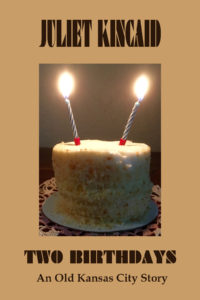 Two Birthdays, a Calendar Mystery story
After Minty Wilcox has worked for six months or so at Price Investigations as a stenographer/typist, the dashing detective Daniel Price appears in the office and carries her off to take notes on a new case the agency has been hired for. But once he starts filling Minty in on the details of the case, some of the information sounds strangely familiar. And she begins to wonder what he's really up to on her twentieth birthday, June 22, 1899.
"Two Birthdays" is available as a Kindle eBook for $0.99 and always free from Kindle Unlimited at www.amazon.com/dp/B076JS3D2Y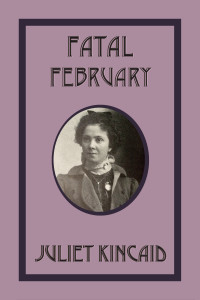 FATAL FEBRUARY
Book 2 of the Calendar Mystery Series
By Juliet Kincaid
It's February 7, 1900, and a young woman has gone missing from a Kansas City garment factory. Price Investigations has been hired to find the girl, who may have come to harm. Minty Wilcox longs to help, but her boss doesn't approve of women sleuthing. He also forbids any office romance at all, especially with the dashing Daniel Price. When Minty defies her boss and goes undercover to find the girl, Daniel helps. But he also hinders Minty with outrageous flirtation and other ploys. And as she digs into the case, Minty comes into danger herself. Will Daniel rescue her? Will Minty even let him try?
Praise for FATAL FEBRUARY
In the year 1900, Minty Wilcox has been hired by a private detective agency, her on again/off again beau's employer, as a stenographer. For this spunky gal, typing and taking shorthand aren't enough. She wants to be an operative. So, of course, author Juliet Kincaid, accommodates her protagonist by letting her delve into a missing person/murder case, sometimes sanctioned, but often not, by her boss. The ins and outs of the investigation, Minty's romantic ups and downs, and her inside out family situations are fun to follow. It's also interesting to learn about the physical layout and the social customs of Kansas City at the turn of the last century. Good follow-up to January Jinx, the first mystery in the series.
Fatal February is available as a trade paperback for $18 from Amazon and as a Kindle eBook for $3.99 (or free on Kindle Unlimited) at www.amazon.com/dp/B017081JHM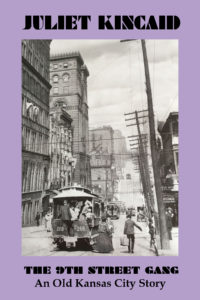 "The 9th Street Gang," a Calendar Mystery Story
In their first case together as a detective couple, newly engaged Minty Wilcox and Daniel Price pursue a gang of thieves plaguing Kansas City in February 1900. Distractions include the objections of their boss to any show at all of their affection for each other inside the office and out, Minty's growing attraction to Daniel, and her wayward thoughts about the secret married couples keep to themselves. Join the fun, mystery and romance of this Calendar Mystery short story and along the way meet the son of a famous outlaw.
Praise for "The 9th Street Gang"
If you wish for something pleasant to get your mind off the lately awful news, delve yourself into the story of three little hoodlums that steal this story from the endearing main characters and enjoy the tidbits of Kansas City history. A bonus is a peek at Jesse James Jr. as I had no idea he existed before reading this story . . . This author always comes through with an enthralling story. Keep us informed as to your next one.
There were surely young people like the 9th Street Gang in many cities around 1900. This short story helps develop the setting and characters in Juliet Kincaid's Calendar Mysteries. A good historical fiction story with lots of description of the clothing, Kansas City buildings, and mores of the time.
MISCHIEF IN MARCH
Book 3 of the Calendar Mystery Series
By Juliet Kincaid
As their wedding day rapidly approaches, Minty Wilcox still has many questions about her fiancé Daniel Price. Could he really have killed a man? Will he get out of jail in time for the wedding? What else is he hiding about his past? Why has he never told her he's rich? And for goodness' sake where are they going on their honeymoon?
Praise for MISCHIEF IN MARCH
So much to like about this book. First, Minty Wilcox, a decidedly modern miss, determined to find a place for herself in a business world dominated by men, but who fears her fiancé is keeping secrets from her, including where he plans to take her for the honeymoon. And the fiancé, Daniel Price, chief investigator of the Kansas City branch of the detective agency founded by his grandfather, who faces the likelihood that he will be forcibly walked into jail when he had been planning to walk his bride down the aisle. Certainly not the least are the incredible historical details of Kansas City in the early 1900s, rich with descriptions of well-known buildings and shops and places like Emery, Bird Thayer to grab a quick bite. Since the letter carrier delivered Mischief in March to my mailbox, I haven't been able to put it down.
Mischief in March is available as a trade paperback for $15 from Amazon or as a Kindle eBook for $3.99 (or free on Kindle Unlimited) at www.amazon.com/dp/B06XR1STRN