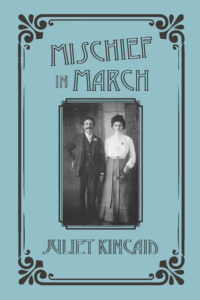 A. M. Wilcox's Investigation
Into All Things Daniel Price
11:55 p. m.                                            Tuesday 23 March 1900
It's shortly before midnight on the very last day of my life as a single miss. Or so I hope and pray.
Right now, I'm sitting on the floor way up at the top of the house in the storeroom where Mama and I hid my wedding gown. We even put it under lock and key.
When we got it up here, we draped it on Mama's dress form surrounded by old sheets so the train wouldn't get dusty from the floor. My wedding gown is beautiful and white, its bodice encrusted with pearls and its skirt covered with lace. And it gleams like a ghost in the light of the lantern I've set on the floor next to me as I write what will be my last installment in my investigation into all things Daniel Price before our wedding day.
But what if something happens to my wedding dress or the flowers in my bouquet or the fine new suit Daniel is supposed to wear or the wedding ring he's supposed to give me?
What if the wedding doesn't go off as planned?
Or the wedding goes off, but what if we don't set off on our honeymoon on time or even at all?
Oh, that man I'm supposed to marry tomorrow. He can be so aggravating. He still hasn't told me where we're going on our honeymoon. That doesn't seem fair after I've warned him time and time again that he's to keep no more secrets from me. It makes me wonder what else he hasn't told me about himself that a girl needs to know before she gets hitched to a fellow.
Not knowing where we're going for our honeymoon just adds to my jitters about the whole thing.
What if we don't get to the church on time . . . or at all?
So many possible slips between the lip and the cup, rum punch cup if Papa and my brothers have their way.
I tell you one thing I know for certain and for sure. If the least little bit goes wrong with Mama's plans for the wedding, she'll have a conniption fit that might even lead her to blaspheme right there in church in front of God and everybody.
This makes me smile, but really I shouldn't.
So much could go wrong. So much has gone wrong already leading up to our wedding day, so many unexpected events, so much mischief, some of it amusing and good-spirited and some of it malicious.

And then there's the murder and Daniel in jail for committing it.
<> <> <>
Ten days earlier . . .
Mischief in March, Book 3 of the Calendar Mystery Series, will be published on March 31, 2017, but you can pre-order it now for only $3.99 at www.amazon.com/dp/B06XR1STRH
MISCHIEF IN MARCH, Book 3 of the Calendar Mystery Series by Juliet Kincaid
As their wedding day rapidly approaches, Minty Wilcox still has many questions about her fiancé Daniel Price. Did he really kill a man? What else is he hiding about his past? Why has he never told her he's rich? And for goodness' sake, where are they going on their honeymoon?
From January through December, the Calendar Mysteries by Juliet Kincaid tell the story of Minty Wilcox and Daniel Price from newly met to newly wed and beyond in Kansas City where life could get downright deadly a hundred years or so ago.
Praise for JANUARY JINX, Book 1 of the Calendar Mystery Series
The delightful, creative, and charming January Jinx introduces a terrific character in Minty Wilcox, a good old-fashioned cozy mystery persona who will surely be able to carry the planned-for series. It's Minty who drives the readable narrative, and author Juliet Kincaid keeps the pace steady and fast at the same time for quite a readable experience. The writing is appropriate for the historical setting without ever being gimmicky or archaic . . . The unique setting of 1899 Kansas City is full of flavor that never overwhelms the story and the characters. With a terrific, original, but still comfortable series concept, there are certainly big things afoot for Juliet Kincaid and Minty Wilcox's Calendar Mysteries.
Buy January Jinx for $3.99 (or get it for free on Kindle Unlimited) now at www.amazon.com/dp/B00HSSSBE4
Praise for FATAL FEBRUARY, Book 2 of the Calendar Mystery Series.
In the year 1900, Minty Wilcox has been hired by a private detective agency, her on again/off again beau's employer, as a stenographer. For this spunky gal, typing and taking shorthand aren't enough. She wants to be an operative. So, of course, author Juliet Kincaid, accommodates her protagonist by letting her delve into a missing person/murder case, sometimes sanctioned, but often not, by her boss. The ins and outs of the investigation, Minty's romantic ups and downs, and her inside out family situations are fun to follow. It's also interesting to learn about the physical layout and the social customs of Kansas City at the turn of the last century. Good follow-up to January Jinx, the first mystery in the series.
Buy Fatal February for $3.99 (or get it for free on Kindle Unlimited) now at www,amazon.com/dp/B017081JHM